HELLO THERE!
WELCOME TO KICKS & GIGGLES
2D, 3D, 4D, AND HD ELECTIVE ULTRASOUNDS
Our unique experience, makes the moment you see your unborn child that bit more exciting and memorable, from a yawn to a stretch, or the beating of your baby's heart, Kicks and Giggles HD offers a whole new view of the miracle inside your womb. With our state of the art technology, there is no need to wait until your little bundle of joy is born to see what he or she looks like. Come in and experience an event that you will never forget!
We believe there is no greater bliss than the creation of a new life. Here at Kicks and Giggles HD we enjoy bringing families together to witness the MIRACLE of LIFE.
OUR STUDIO
AT KICKS AND KIGGLES HD ULTRASOUND WE ARE VERY EXCITED TO OFFER AN EXPERIENCE YOU WILL ALWAYS CHERISH.
Greg and Kasey Smith are current residents of Eagle Mountain, Utah who are, as Greg put it so perfectly one day, fans of all things fun and tasty. To them, the only thing better than a good adventure is great food to enjoy along the way! They love the outdoors and taking on new challenges to help bring variety, improvement, and growth into their lives, whether that be in the form of travel, education, quality time with family, or new business ventures.
At Kicks and Giggles, we recognize that this time of life is an exciting, crazy, whirlwind of activity and emotion for you and your family. We share your excitement and joy as you come to experience the first glimpses of your sweet baby's face, fingers and toes. We hope to foster the relationships between families, parents, and children with a laid back, enjoyable and accommodating ultrasound experience.
MAIN SERVICES
Gender Determination
2D Ultrasound
3D/4D/HD Ultrasounds
Heartbeat Animals
USB Recording of Ultrasound
STUDIO PHOTOS
ULTRASOUND ROOM SEATING
ULTRASOUND ROOM SEATING
LARGE SCREEN VIEWING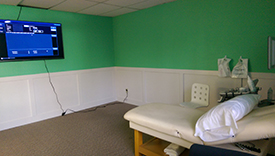 WAITING AREA
RECEPTION AREA